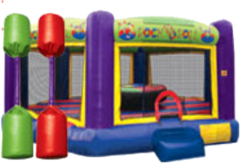 King of the Hill Joust Cage
$389.00
Dimensions:
Outlets: 1
Monitors:
King of the Hill Joust Cage
This King of the Hill Joust Cage inflatable interactive game, offered by Bouncey House Rentals, turns amateur jousters into rock stars! Players enter the six-sided arena and climb onto the single large raised center pedestal for a jousting match. There is just enough room on top the pedestal so that players will have to both rock and roll to maintain their balance. A contestant wins when he or she has defeated the opponent and claims the pedestal. The King of the Hill Joust Cage interactive inflatable game has a bright and beckoning exterior, and a dizzying red- and blue-striped interior floor perfect for school or church celebratory jumping, giving it the draw power for hours of traffic. Available in Sacramento from Roseville to Elk Grove.
The King of the Hill Joust Cage inflatable game is a great way to promote exercise and healthy competition and sportsmanship. This inflatable jousting game is a great addition to any Party Rental or outdoor event! Our exclusive line of games are made safe and secure with lite n strong™, fire-resistant vinyl making it safer, and more fun!